Giving Rural a Voice - Makerspace in Salmon, ID
Who are we?
Salmon Public Library (a nonprofit) is located in Lemhi County, Idaho, some 150 miles from a major interstate. In fact, Salmon is one of the most remote towns over 2,000 people in lower 48 States. Check it out! Our remoteness is a bonding factor and appeal to some within our community however it does provide its challenges as well. Idaho ranks 46th among US States in education and Lemhi County has some of the highest poverty rates in the state. 
 My Story:
 As a new resident to this wonderful welcoming community I gazed upon it with fresh eyes, witnessing the magic that is possible here. I quickly realized rural agricultural towns can often get overlooked when it comes to seeds of invention, but it's not due to ingenuity, but lack of resources and opportunities. I bring a computer science background with thirteen years working in film wrapped in an abundance of creativity to inject into a community that's starved for a different kind of outlet. Our path is clear and with your help we can pioneer a trail of discovery with tomorrow's youth right here in Salmon, ID.
We want to take our students from a 4 day school week to a 5th day learning movement and encourage the community to relieve some of the burden from the schools by using the talent and resources within our community to leverage this opportunity.
In late 2016 the Salmon Public Library and I partnered with MakerEd, a nonprofit responsible for helping grow a Maker Culture within communities as a way to fight poverty in addition to empowering its members. Our goal was setting up this fundraising campaign to undergo a physical transformation of a space at the same time igniting a spark for creativity, innovation, and collaboration among the future patrons of it.
The Goal:
To provide a free accessible space to our community that encourages not only youth but families as a whole, to engage in a facilitated environment of making. We want to honor the traditional arts that exist in our community by inviting those craftsmen to mentor the youth while at the same time absorbing what the student knows about emerging technologies.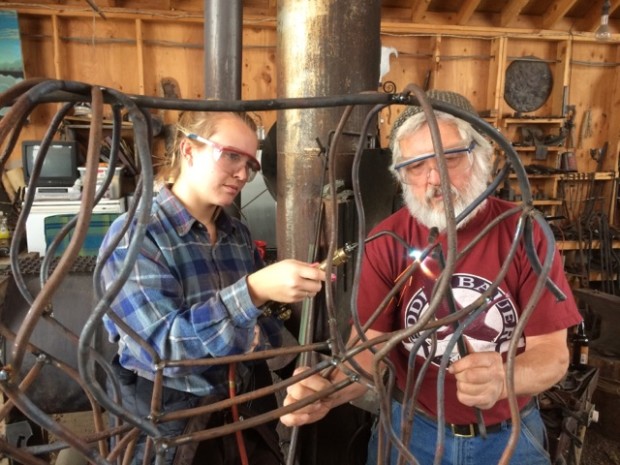 We want to create a fun, safe, empowering atmosphere where students can develop, lead, and solve future community problems. The Makerspace we envision to create with your donations would provide an outlet for design thinking, innovation, critical problem solving, all the while be inviting to all who walk through the door. The end result being to take away the "I can't because..." way of thinking and give rise to a "I have an idea I want to pursue" methodology.
How You Can Help:
Being a small remote community, we are often called upon fundraising for projects we want accomplished. While often successful it can exhaust the wonderful generosity of the community members who live here. That is why a new approach is being taken; let's ask our greater community, that of Idaho, the US, the world to lend a hand and help us.
Know that your donation is funding a movement. When properly managed money enters a small town, it truly has the power to change for the better. The children who grow up here are forever altered and leave more equipped than previous. They go off, experience, come back, and invest into the same town they grew up in. This is how a grassroots movement begins, this is how paradigms shift.
You're also buying into the passion of an individual that refuses to give up on the vision of what this could mean for the community. It's not out of stubbornness or shortsightedness but because of the stories that come from sparking a young person's imagination when they hear a note they've recorded or light up a light they've soldered.
You're helping change the inner dialogue of a young person in our town from "I can't because" to "I can and will..."
A great idea might have seed in one person's mind, but it could never take flight without the power of many who believe in it. That is why we need your help. Help be the many who believe in me to steward this journey, help be the many who believe in a child who doesn't have the space to create, but who has aspirations to be an inventor, help be the many who believe in our town and the magic it possesses, help be the many who bring about the opportunity to dream.
We are forever grateful and thankful for your support! Please visit: https://igg.me/at/rEBaU60JYx4 to share or donate:
Now let's get making!
Do you like this post?